JOHN FISLAR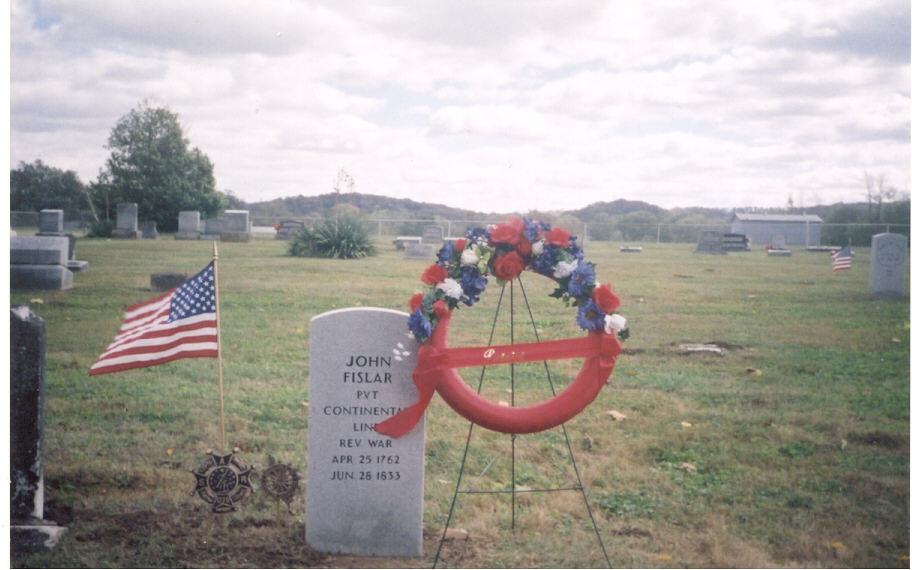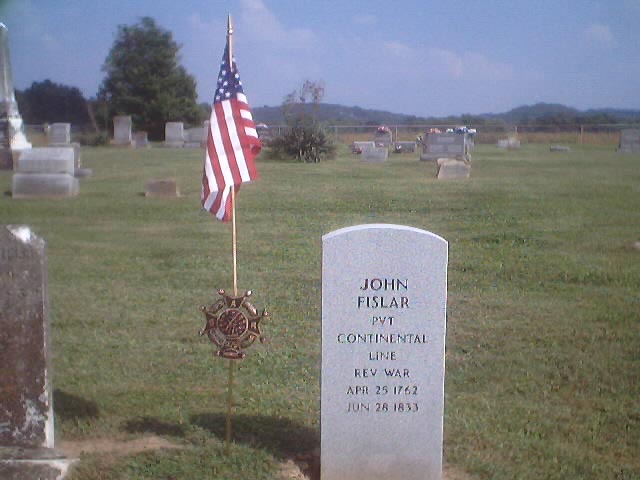 Born: April 25, 172, South Amboy Twsp, Middlesex County, New Jersey

Died: June 28, 1833 Jackson County, Indiana

Burial: Bethlehem Cemetery, Bethlehem,Clark Co., Indiana

A military stone is actually located in the back yard of a lady in Bethlehem that overlooks the Ohio River. Bethlehem Cemetery is just north of town.

Service: Private in Rev War under Capt Perrine, New Jersey Militia and Colonel William Souder's New Jersey Regiment

Sergeant - 1790 General Harmer's Campaign

War of 1812 - Battle of Tippecanoe


Proof: Pension S 32247 and Indiana Agency Pension #25249

DAR APPLICATION - 235553, 309796, 315934, 554951, 568089, 775189A849

SAR Paper 56545, WC21106, War of 1812 BL W#23555-160-50

Pioneer Cemetery in Grassy Fork Twsp (Clark Co, IN) actually this cemetery in up in Jackson County, IN which might make sense, since he died in Jackson Co, In.


Married: (1st) 1783 to Sarah PLASKETT (1764-1806) (2)Sophia Neddgit (Leggett) abt 1796-1798

Children: (All by first wife)

John Jr: Born 1785 ,born NJ, Died indiana before 15 Aug 1845
married (1) Elizabeth Plaskett (2) Martha CHAPPLE on May 9, 1833 and (3) Mary E Keach>

James: Born Dec 10, 1787 New Jersey, Died 24 Apr 1846
Married (1) Susannah BOWMAN on Aug 3, 1808/1809

Married (2) Grace Phillips HALL Sept 30, 1823

Jacob: Born April 21, 1790 in Pennsylvania, Died Indiana 27 Dec 1851
Married (1) Susannah GARNER 30 Dec 1812
Married (2) Fanny Love FORTNER 17 Nov 1830

William: Born Pennsylvania abt 1791-1796, Died Indiana before 11 Sept 1813

Elizabeth: Born 1793 Pennsylvania, Died indiana 08 Sept ????
Married Joseph BROWN on May 02 1816/1818

Jesse: Born Pennsylvania abt 1795, Died Indiana 27 Aug 1838
Married Mary Shield 12 Oct 1815

Sophie: Born Indiana 22 Nov 1796, Died before 15 April 1867
Married Samuel Coffin on June 08, 1830

Joseph: Born Indiana about 1797, Died before 1827
Married to Elizabeth Brown on 01 Feb 1820

Sarah Elizabeth: Born Indiana Aug 20, 1800 - Died 13 June 1859
Married Aaron Oliver BELDING 01 Jul 1816

ANYONE WITH INFORMATION ON THIS PATRIOT
I'D APPRECIATE HEARING FROM YOU.Stephen D Franklin

Directions: Old Pleasant Cemetery> Bethlehem Cemetery

FYI - The Plaskett's can be found in the Bethlehem Cemetery. So far the only FISLAR stone that I've come across in all of Indiana to date is one that is in Ross Cemetery, which is on the New Washington - Bethlehem Road on the left and can not be seen from the roadway. This stone is on the far side of the cemetery is a collage with other stone where they placed them in a displayed manor.

The pic below is the only one that I have located:
I'll try to get a better lighted picture of this brown stone soon. Unfortuantely I just switched to a new Operating system program and it does not allow me to use my adobe program to make this photos with better details as in the past>
Stephen D Franklin

The Plaskett is a family name found in Bethlehem Cemetery. But if buried there there is no visible sign of Sarah's grave. ALso we witched around the stone of John Fislar, and found there to be no disturbance in the ground indicating a burial there. The lady that lives on the property for sometime now has heard two stories about the stone. (1) It was coming down or up the river on a boat and a man traded for it. (2) It was found in a barn nearby and apparently never got properly placed and that is why it is where it is as of June 2003.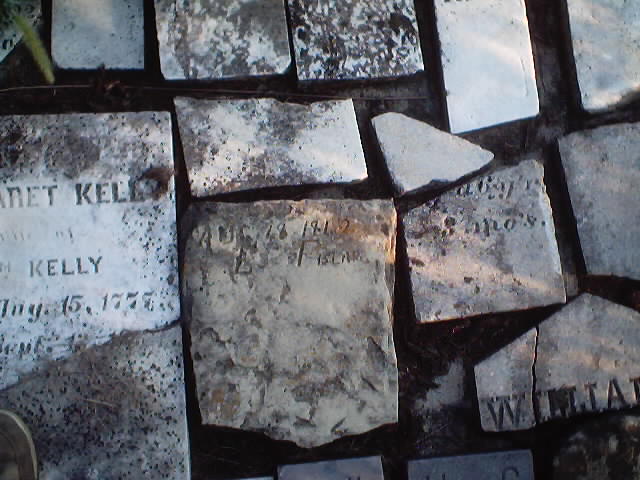 Indiana War Graves Index - Hoosier Pioneer Patriots Chapter SAR, Jeffersonville, Indiana